The National Football League's free agency, allowing NFL players to earn big checks or find better team fits, has finally made its way to collegiate sports. As its second season comes to an end, the NCAA's so-called transfer portal has become a new normal in the transfer process for student-athletes that allows them to exercise more control over their collegiate careers. It gives student-athletes more freedom to move around and find better schools that suit them.

Graduate transfer Velus Jones Jr., who was once rated a 3-star wide receiver, is one of the most recent products of the newly implemented tool.

"The transfer portal is a blessing. I am really thankful that the NCAA has allowed players to find a better home," said Jones who used the new rule to transfer to the University of Tennessee from the University of Southern California because he found his new school a better fit.

"The transfer portal is a blessing. I am really thankful that the NCAA has allowed players to find a better home," said Jones.
Jones benefited from a newly embraced college rule that debuted in the fall of 2018. Since its inception, it has had a large impact on college sports. To give you an idea, a transfer has won college football's Heisman Trophy three years in a row. That's huge.

The Transfer Portal was created as a compliance tool to systematically manage the transfer process from start to finish, add more transparency to the process among schools and empower student-athletes to make known their desire to consider other programs. Once student-athletes ask that a compliance administrator place their name in the portal, the school has two business days to submit the information, under NCAA rules.

---
Moving between schools a lot easier
Previously, if an athlete desired to transfer from their current program, they had to get permission from their coach to contact other schools. If denied, they'd have to make a case to their athletic director. If denied again, they would fail to receive athletic aid at their new school. After this process, the student-athlete identified the schools that they would potentially like to attend. The school's compliance administrator would then have to contact each of these said schools. Those schools would, in return, send back a transfer tracer, a form that establishes the student-athlete's eligibility status, that had to be filled out by hand. This made one thing very clear: the transfer system in place was laborious and, in the minds of many, broken. The once long and grimy process was made simple through the convenient portal.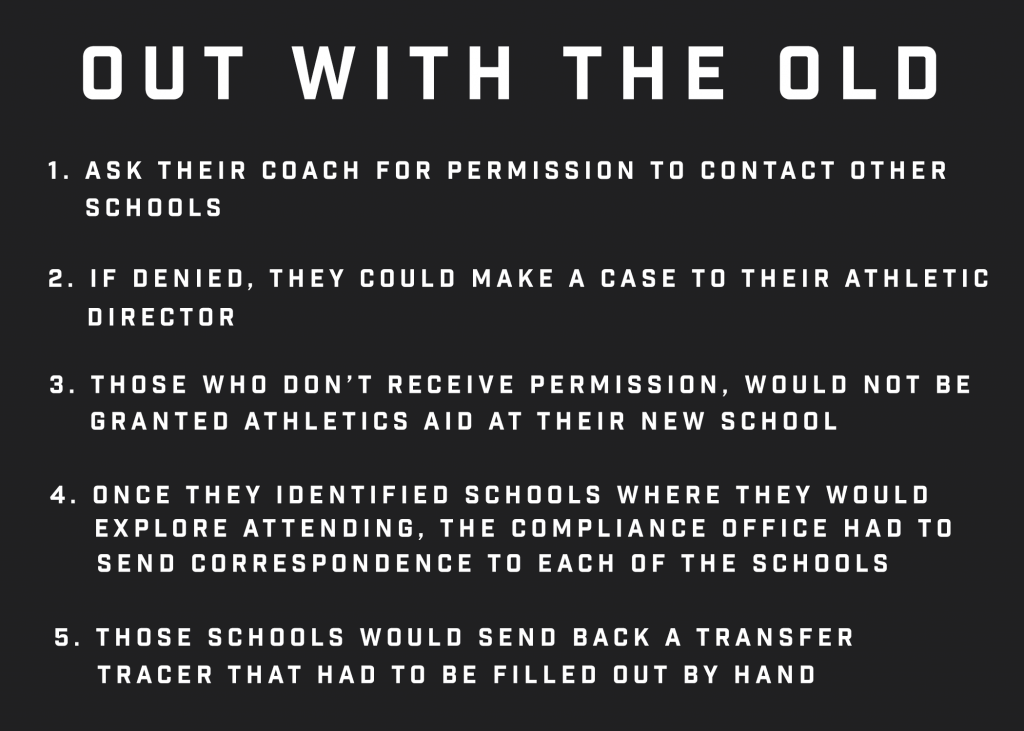 Under the new policy, Once the student-athlete's name is in the portal, other schools can begin to contact them, unless the athlete chooses the option of "do no contact" upon entering the portal. The notification of transfer is almost immediate for everyone including coaches, other athletes, and media. However, entering the portal does not imply that the athlete will be leaving their current institution. It simply means they are exploring their options to transfer. An athlete can easily remove their name from the portal as Jones did prior to the start of the 2019 season.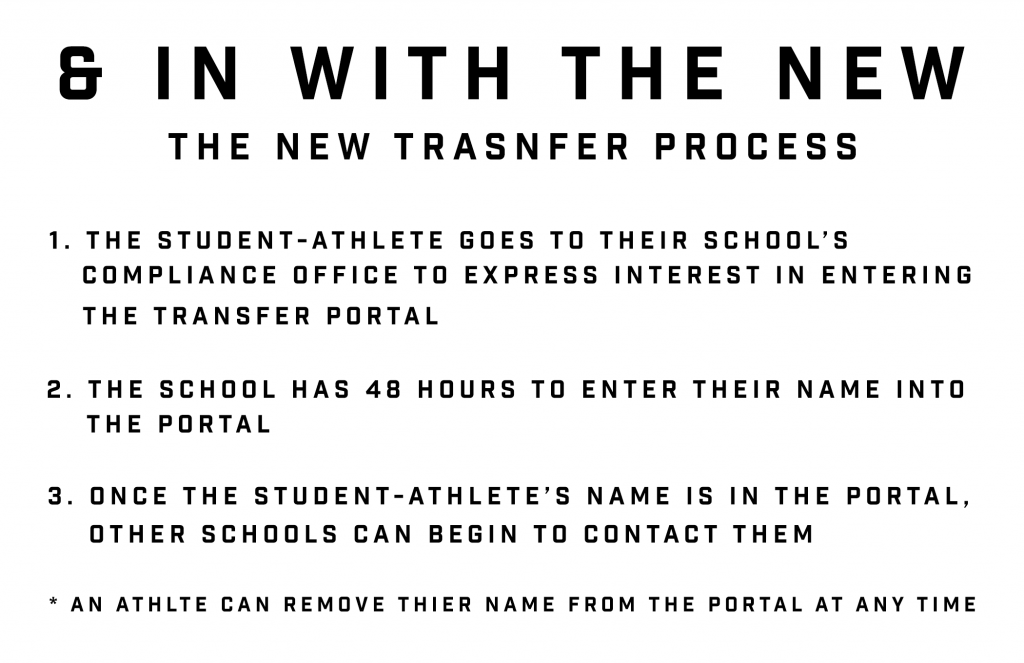 The new rules have impacted all 30 NCAA Division I sports, from football to basketball to baseball and swimming to tennis to track. Both men and women athletes in any of the sports can exercise the transfer portal, but the most attention has been placed on football, the most visible and most celebrated of the sports at most large campuses.

The pandemic, of course, has unsettled the process. For the college football transfer market, which largely takes place during the winters lasting until spring, there are no recruiting visits and spring practices to be had. The NCAA has yet to make a decision surrounding the new transfer rules for the upcoming season and college football might not even start on time this year. So there is no urgency to make any decisions for the student-athletes whose names are still floating around in the portal.

---
Designing a better transfer system
Getting to this point was not easy. The NCAA formed a working group in 2017 to study the policies in place for transfer student-athletes. By June 2018, the NCAA Division I Council presented a new "notification-of-transfer" model that allows student-athletes to openly express their interest in transferring from one institution to another. This new model, required by all Division I schools, has offered a huge change in the way collegiate sports operate.

The University of Southern California is no different. As of April 2020, 25 football and 14 men's basketball student-athletes linked to the university have used the portal to exercise their right to transfer in some capacity, whether it be to transfer away or into the program. Most recently, USC's five-star sophomore quarterback JT Daniels made national headlines as he entered his name into the portal. Although it looks as if he might stay with USC following the NCAA's recommendation against a one-time transfer waiver which would help him avoid sitting out a season.

Much like his former USC teammates, Jones is the beneficiary of this more enlightened approach to college athletics. The 6-foot, 190-pound wideout initially had hopes of transferring in the spring of 2019, but ultimately decided to stick it out another season. As that season came to an end, Jones re-entered his name into the transfer portal. He wanted to attend a program that would utilize his skill set. A program that would propel him into the NFL.

"I knew I had to go. I only have one year left," said the Alabama native. "My skills weren't being utilized as they should have, to my full potential. I had to make the most out of my final year. To better my chances of getting drafted high."
"My skills weren't being utilized as they should have, to my full potential. I had to make the most out of my final year. To better my chances of getting drafted high."
For Jones getting drafted means fulfilling his lifelong dreams of playing in the NFL. But getting drafted in the first few rounds is a different story. It gives him the opportunity to be able to take care of his family. Seeing that USC was no longer a fit, Jones entered the portal. A decision he made as the 2019 Holiday Bowl, the bowl game USC was selected to play in, came to an end.

Jones made a trip to the school's compliance office where he signed a form. Coaches are allotted two days to return the form, allowing the student-athlete to explore their options elsewhere. On the third day, USC head football coach, Clay Helton, returned the form. Except, this time was different than the first. Coach Helton didn't try to persuade Jones to remain in the program. He understood that Jones had one year of eligibility left because he had earned his degree at the university in 2019.

"He knew I was a great player with a lot of potential," recalled Jones. "He told me to make the best of it."

And so the waiting game began, as the former Trojan waited for coaches to gain interest. Once coaches reached out to him, he took visits to narrow his choices down. "It can be stressful because it's your last chance," said Jones. He admits the transfer portal made the process convenient. "It made it so much easier," he said.

Seeing how much easier the transfer process is, the number of athletes who have transferred has exploded. "A lot of guys fear coaches. They make it seem like it's a bad thing to transfer," explained Jones. "It's a normal thing when a coach leaves, but when a player tries to leave it's an issue."

---
Politics surround the new policy
This very point became evident in the spring of 2018, just a few months before the NCAA implemented the new legislation. Alabama Head Coach Nick Saban was caught under fire for his refusal to let his players transfer within the SEC. Backup center Brandon Kennedy had hopes of transferring from Alabama to Auburn or Tennessee. SEC rules would have required him to sit out one year if he did so. That wasn't the issue: Alabama wouldn't let Kennedy contact any SEC school or the seven other nonconference opponents that season.

"When we make a rule that guys can transfer whenever they want to transfer, how are we supposed to get people to do what they should do?" said Saban. The NCAA's reformation coming just months after this statement seemed to be no coincidence.

Increased athlete freedom was the point of the 2018 legislation. Rather than athletes obtaining permission from schools, the institution will receive notifications from athletes. It's up to each individual school to decide whether they must contact the coach before doing so. Regardless their name will wind up in the transfer portal.

"A guy's fulfilled his time… and he's supposedly a man, he ought to be able to make those decisions," Texas A&M coach Jimbo Fisher said in a statement. "I know some people don't agree with that, but I do… They ought to be able to [transfer]."

There are reasons athletes should not be bound to a school forever, such as coach and personnel changes. If an athlete gets to a campus expecting a number of promises and all of sudden the attitude is different, their opinion of that school might change. Or maybe the coach who recruited them took a different job and now they're stuck with a coach who didn't recruit them in the first place. That may very well be the case for many.
Coaches who disagree with the NCAA's 2018 legislation, have had to quickly learn how to treat their athletes as the transfer process progresses. They are going to have to learn how to build teams, not programs. Which might come as a disadvantage in managing roster numbers and scholarship spots. This new process is all about free agency and athlete empowerment. The years of transfer blocking are dead. 
As for Jones, he decided to rejoin former USC Offensive Coordinator, Tee Martin. Martin recruited Jones who decommitted from Oklahoma to join his fellow Alabaman at USC. Martin coached Jones for his first three years at USC until he took a job at the University of Tennessee. Now, the two are united again this time in Knoxville, Tenn. 
It's only been three short months since Jones began his journey in Tennessee, but the effects have been substantial. "I feel free. I feel like I have a fresh start. A fresh opportunity," said Jones. Transferring away from a Pac-12 football program to an SEC football program is a big leap. Since 2010, the SEC has beaten a Pac-12 team 11 out of 16 times. That's a 68.8 win percentage for the SEC. "SEC tradition is different," said Jones. "Football is just more serious in the South." All of which wouldn't have been afforded to Jones if it weren't for the convenience of the transfer portal. 
"I feel free. I feel like I have a fresh start. A fresh opportunity," said Jones.
The portal is of benefit to all parties involved. For coaches, the portal is a practically a database to see which athletes are looking to transfer. Coaches can create a "watch list" to see which athletes they want to track and see if they have made a decision if any at all. For compliance departments, this portal creates one convenient online location needed to handle a potential transfer. 
What benefit does this serve for the NCAA? Well, the portal helps the NCAA researchers to collect transfer data since everything is one centralized location. All the information is there, no hassle included. Before NCAA staffers had to rely on individual schools or conferences to certify the transfer of athletes.

Ultimately it's about honoring college athletes of all sports and their respective choices. As seen in the 2019 college football season, three of the four starting quarterbacks in the college football playoffs were all products of the transfer portal. Heisman Trophy winner Joe Burrow who was the number one draft pick in the 2020 NFL Draft, Jalen Hurts who went right behind him in the second round and Justin Fields who will be entering his junior year at Ohio State.